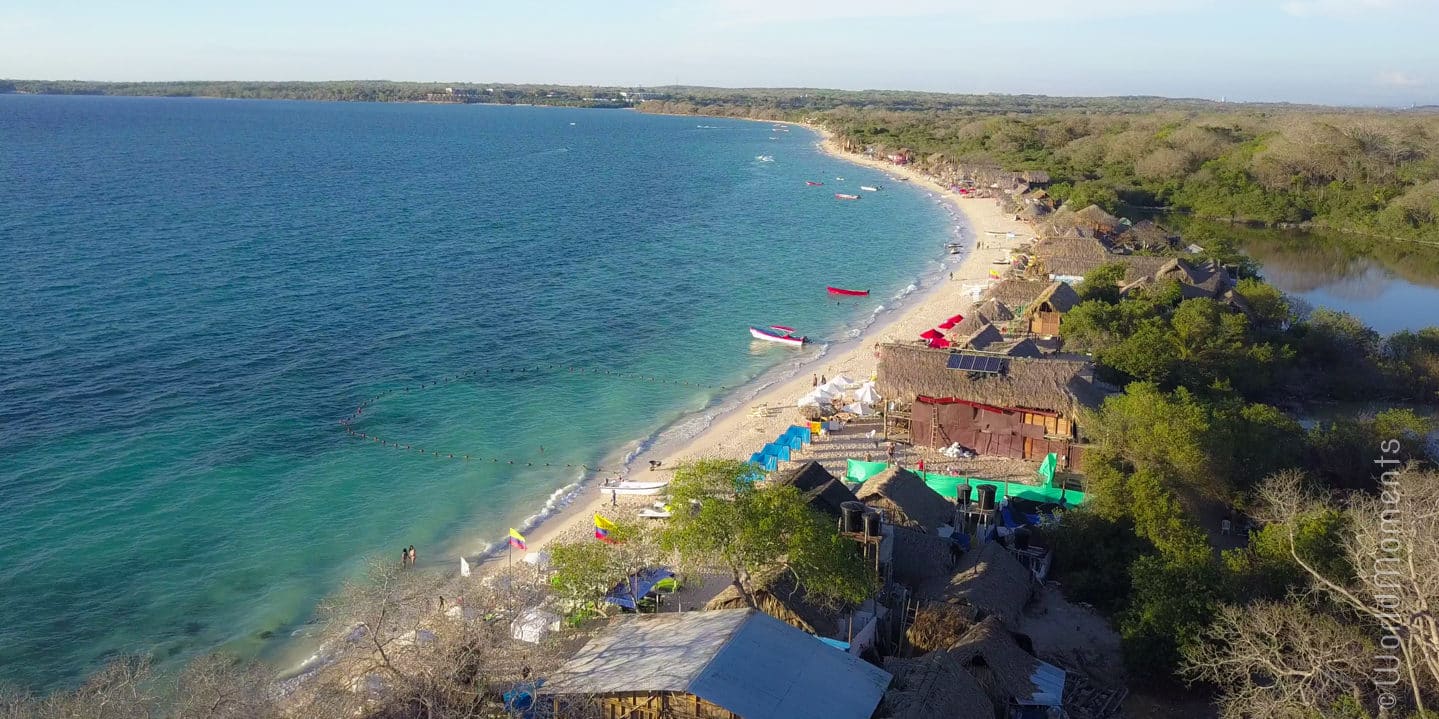 Cartagena beaches: The ultimate beach guide
T
he Cartagena beaches offer a great variety, so you can choose the perfect one according to your tastes and preferences. Surrounded by beautiful waters of the Carribean coast, you'll also be just meters away from the historical center and other important touristic sites. The closest such sites are Bocagrande, El Laguito and Castillo Grande. What you should know is that the beaches located in the city are characterized by golden sand which renders their waters a little darker, unlike the island beaches that can be reached in around 2 hours, such as Barú, Islas del Rosario, and the Archipelago of San Bernardo. These islands have beaches with white sand; it's here that one can see and appreciate the turquoise seas of the Caribbean.

The temperature of the water of all of these Cartagena beaches is between 27° and 29° centigrade throughout the entire year, so you can always enjoy them! These beaches are perfect for playing in the waves near shore because the waters here are quite calm.
How to visit Cartagena beaches?
We recommend that you plan on spending several days to explore these sites, as there are many spots where tours are offered that can take you to any one of the beaches that we will mention here. We also recommend that you make your way to the docks "La Bodeguita", because it is from here that the motorboats leave to various islands, but also keep in mind some of the recommendations that we'll give you in this article in case you get the chance to visit some of our favourite sites!

Bocagrande Beach (Playa Bocagrande)
You can walk to this beach from the historical center of Cartagena or from the neighbourhood of Bocagrande. This is a popular site because of the proximity to hotels, commercial centers, retaurants and the touristic parts of the city. It's also ideal for enjoying peaceful waters and waves, although between december to february the water does become a bit more choppy and so you should be a bit more cautious when out in the water during these months. On the bright side, these larger waves allow you to take part and practice water sports!


The water temperature of this beach is perfect, and although the waters aren't crystal-clear because of the golden sand, there are plenty of things to do here to relax: you cna listen to 'vallenato' music or enjoy the little things while sipping the drink of your choice, strolling on the beach, or enjoying a massage. You can find a massage at the majority of these Cartagena beaches for about USD10, although we really do recommend that before buying any product or service, that you check the price so that you can enjoy your relaxing stay and so that you don't get any nasty surprises!
El Laguito Beach (Playa El Laguito)
The beach El Laguito is located in one of the most prestigious areas of Cartagena, at the base of Bocagrande and very close to Castillo Grande. Like Bocagrande beach, its sand is golden, but with its more active waters it's more suitable for water sports. It is also surrounded by luxurious hotels and tall apartment buildings. 


Castillo Grande Beach (Playa Castillo Grande)
If you're looking for a quiet beach that's close to the city then Castillo Grande is the beach for you. It gets less visitors than Bocagrande and as a result there are fewer venders walking the beach. The waters here are calm and the sand is soft; for all these reasons, you can take a peaceful walk here or enjoy a tranquil bicycle ride. The view here is spectacular, paired with a refreshing breeze and clean air. This is the best place to come for tourists who are seeking to relax in a tranquil environment. 
Isla Grande
As its name says, this is the largest island among the Rosario Islands: 200 hectares large, it hosts mangroves, coastal lagoons and tropical forests. This island also is home to several beautiful Cartagena beaches, the most notable among them being Playa Dulce and Playa Libre. We recommend that you go to the Laguna Encantada: this is another fantastic place to take a night-swim with phosphorescent plankton! This island will, without a doubt, figure in your list of favourite sites after you visit it. 
Encanto Island (Isla el Encanto)
This is another 'island of paradise' that is part of the National Park Corales del Rosario y San Bernardo. It's smaller than other islands we've mentioned here, but with only 300 meters of beach, it is still enough to enjoy the softness of the white sand and the beautifully warm, turquoise waters. Only 10 thousand square meters of this island's total 60 thousand square meters have been developed, thanks to the work of local people in conserving the environment of their island. Would you like to stay one or two days here? This is possible thanks to the 14 ecological cabins you could stay in while you enjoy this paradise.
Múcura Island (Isla Múcura)
In the San Bernardo archipelago, which is formed by 10 islands, one can find the Múcura Island, a perfect place to get away from it all and enjoy the tranquility and beauty that this beach offers. The simplest way to travel here is to take a speedboat directly from Cartagena, the price of which varies depending on the season but should be between 70 and 90 USD. The other way to get here is by taking a bus from the Transport Terminal of Cartagena towards Tolú, which costs around 13 USD and takes 3 hours to get Tolú. Once there, take a speedboat to get to this spectacular destination.
Playa Blanca Barú
This beach is found 40 km away from the historical center of Cartagena de Indias. You can get here by land or by sea from Cartagena. By land, you should take a bus from the Mall Plaza el Castillo which is going to Pasacaballos, and from there hire a car or motorcycle to take you to the entrance of Playa Blanca; in total this should cost you about 5 USD total. By sea, head over to the docks Muelle La Bodeguita to hire a boat for around 25 USD. We recommend that you stay the night, even if it's a little less comfortable in one of the ecological cabins, so that you can see the phosphorescent plankton. This activity costs only 15 USD, and for this small price you will see something marvellous. Here you read more about Playa Blanca.


Rosario Islands (Islas del Rosario)
This beautiful archipelago is located on the same Barú peninsula, and so travelling here from Playa Blanca takes only about 45 minutes in a speedboat. The Rosario Islands number 27 islands in total that make up the National Park "Corales del Rosario Y San Bernardo." There is a spectacular aquarium here located in the sea.Here you read more about Rosario Islands (with video).
In Cartagena – Colombia, you'll be surprised by the number of breath-taking islands and beaches that there are to visit. Do you know any other Cartagena beaches that you could recommend to us?