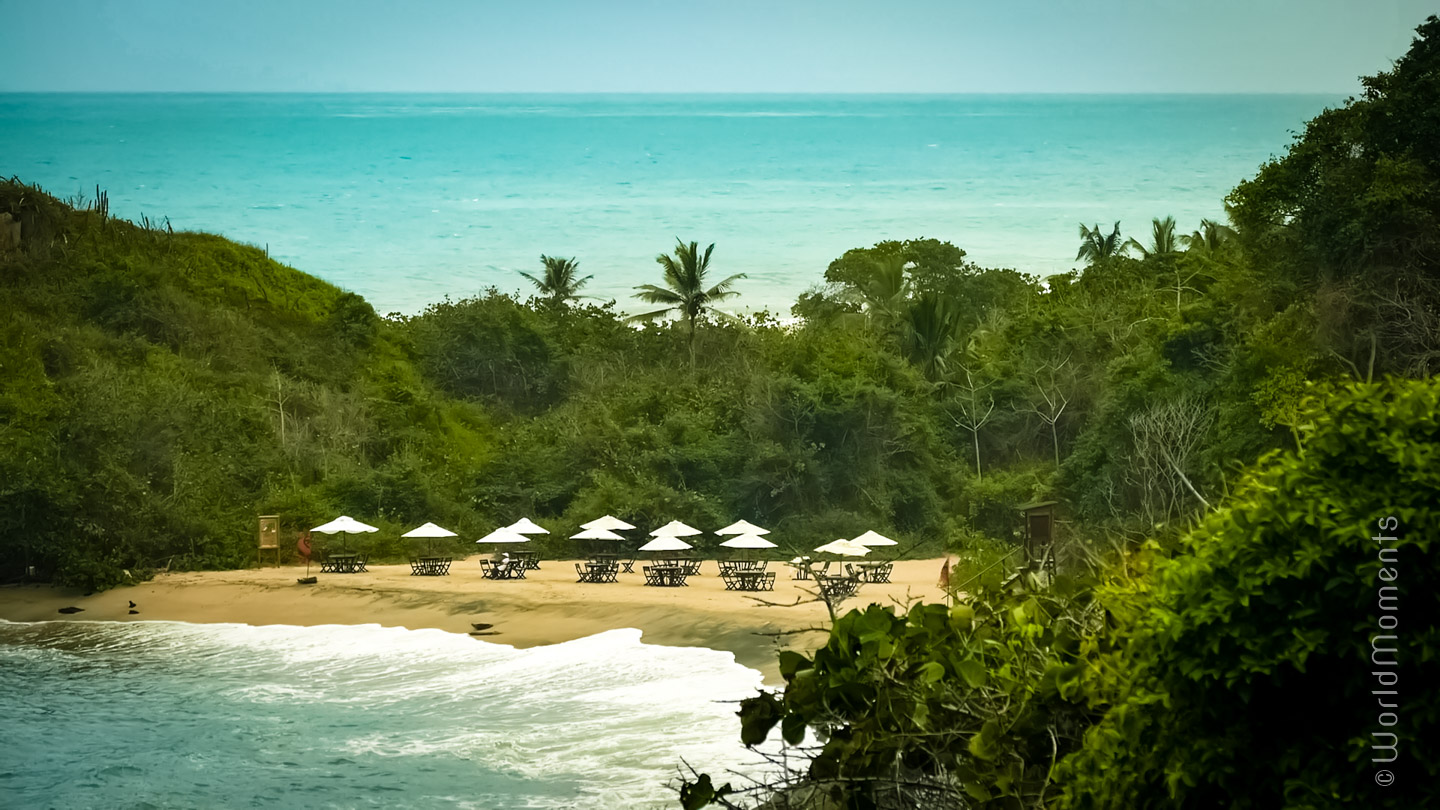 Tayrona National Park
To talk about Tayrona National Park is to speak about beautiful beaches, forests, mangroves and archaeological sites. In just a few words, it is a natural wonder only 40 minutes from Santa Marta that you simply cannot miss.

How to get to Tayrona National Park?
First of all, it's important that you know the hours of the park: it is open from 8:00 AM until 5:00 PM, and there are options for accommodation inside the park if you would like to stay overnight, but I'll tell you more about that later in this post.

Tayrona Park has three entrances, so you can get to the park in three different ways:
Zaino Entrance
This is the principal entrance that most people choose to enter through. To get to Zaino, one can take a bus at the intersection of avenue 9 and street 11 in the center of Santa Marta. The price for this trip is about 3 USD, or 5 USD if you want to ride all the way to the terminal. Both of theses bus trajectories will drop you at the entrance.

Once you have paid to enter the park (further one I will list the updated prices of entry to the park), there is still 5 kilometers of paved road that you can either choose to walk (this takes about an hour) or take collective transportation (a little car) for about 1 USD so that you can begin to enjoy the trails and beaches a little sooner.

You will also have the option of traversing the trails on horseback (prices range from about 8 USD and up, depending on how far you go on horseback). This trail will take you to Cañaveral, Coral Reefs, San Juan del Guía Cape, and Pueblito. Keep in mind that the walk to get to San Juan Cape is 2 and a half hours one-way, for a total of 5 hours. Having said that, walking on the trails in Tayrona Park is a really gorgeous experience that you will enjoy for sure thanks to the enchanting Nature and views that can be found in this park.
Palangana Entrance
This entrance takes you to Neguanje, Gayraca, and Glass Beach. You can get here by boat, leaving from Precipice Beach ("Rodadero") for 30 USD and from Taganga for about 25 USD. Keep in mind that if you choose this entrance, you won't have the option of accommodation in the park. This entrance is exclusively for day-trips.
Calabazo Entrance
This is the longest trail that you can choose and it will bring you to San Juan Cape, Pueblito and the Nudist Beach. Calabazo entrance is recommended for those who are attracted to adventure, so if you are one of those people, take this route! If you choose it, you will have to walk for 5 to 6 hours, drinking in the beauty of the sights you will pass on the way through the jungle and as you pass communities that live there. To get to this entrance, take the bus as if you were going to the Zaino entrance, which will cost you about 2.50 USD. You should tell the bus driver that you want to get off the bus at Calabazo, since it is a bit before Zaino.

Keep in mind that, though this walk is very pretty, it can also be quite dangerous since you can stumble upon poisonous snakes and other kinds of danger to avoid.
The three entrances that we mentioned above can be found on our map.
Hospedaje en Parque Tayrona
Staying overnight in Tayrona Park is possible, and although I have never done it, it must be a wonderful experience since those who have done it recommend it.
Most people choose San Juan Cape for accommodation, which can be found after Arrecifes (Coral Reef) and Playa Brava (Fierce Beach). The prices are as follows:
Playa Brava (Fierce Beach) offers more economical prices tan San Juan Cape, though few people choose to stay here overnight because of its "fierce" reputation.
Where to eat?
Within the park there are restaurants where breakfast costs about 3.50 USD and lunch is about 7 USD. If you want to save some money, you can also just bring your food and drinks into the park with you.
How much does entry to Tayrona Park cost?
Here are the 2022 park entry prices:
Low Season
High Season (end of december – end of january)
Keep in mind that since 2019 one now has top ay 1 USD for medical insurance. If you want to buy tickets for Tayrona Park, you can do it on the park's official website at Tayrona Park.
Well, there is not doubt that Santa Marta is a city of veritable treasures that are worth visiting and that Tayrona Park is one of the most important of these. If you want to know about other places you can visit in Santa Marta, I invite you to visit our other article about Tourism in Santa Marta