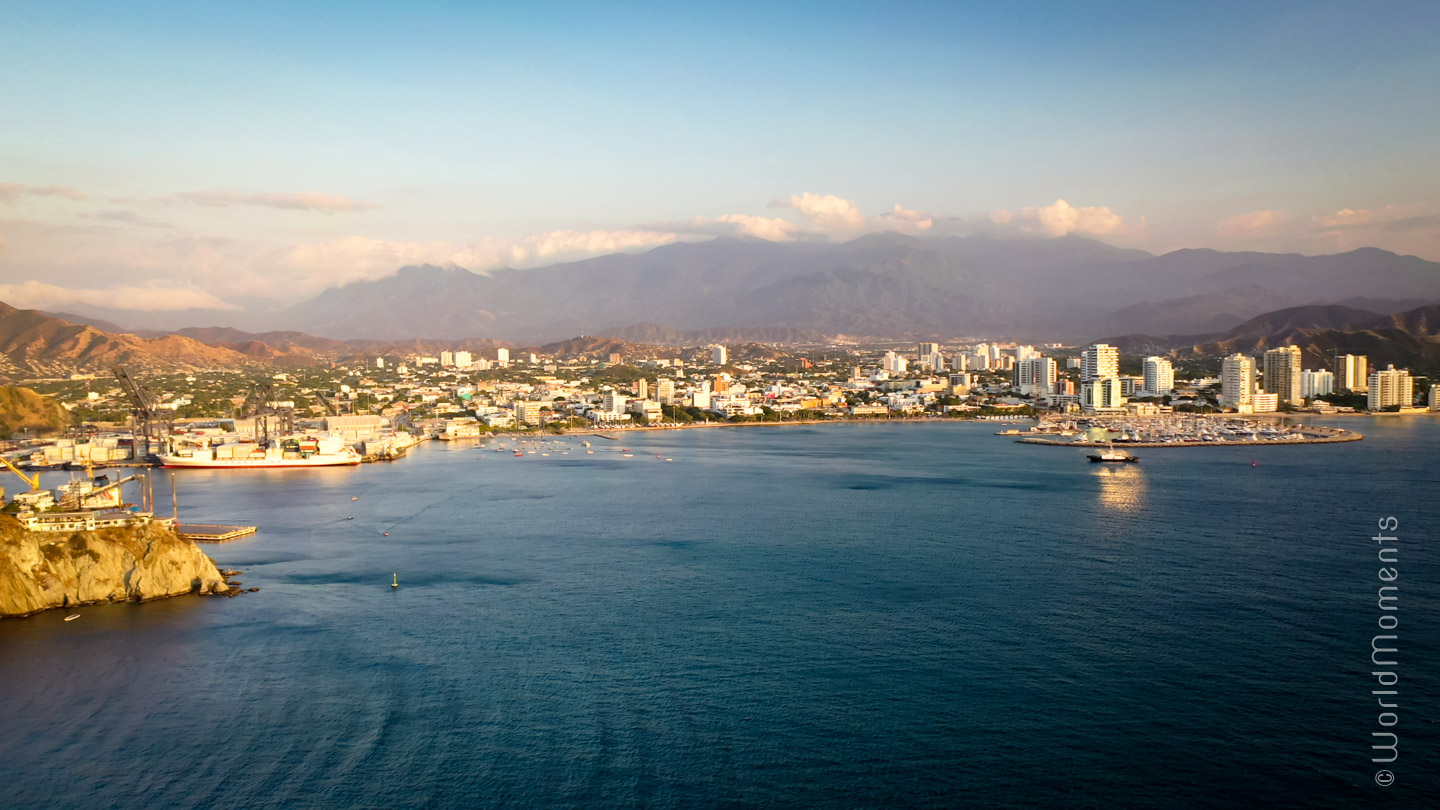 Santa Marta Historic Center
A
s I mentioned to you in our article
Tourism in Santa Marta
, this city is one of the oldest in all of the Americas, and as a result the richness of this city's historic center is fascinating. This beautiful city is home to a nearly infinite list of interesting locations to explore and experience that are part of its history, and in this article I wanted to describe a few of them to you.
The most important tourist sites in the historic centre of Santa Marta.
Santa Marta Bay
The prettiest bay in the Americas! This is how the bay of Santa Marta is described. Of course, everyone appreciates beauty differently, but we strongly recommend that you visit this bay which can be seen from the terraces of some hotels in the Historic Center. This can be a beautiful plan for an afternoon you could enjoy, watching boats in the bay come and go. It is located on Avenue 1 in the Historic Center of Santa Marta and it is really a place that you shouldn't miss.
International Marina
Thanks to its proximity to Curazao, this port is one of the most important ports in the Americas and plays a role on the world stage. Due to the mountain chain of the Sierra Nevada of Santa Marta, those who navigate to this port are protected from hurricanes and storms.

The International Marina has the capacity to hold 256 ships and this marina offers floating docks, bathrooms, showers, potable water, a small convenience store, laundry, a pool, and 24 hour supervision by security.

Customs House
The Customs House is also known as the Gold Museum. It is an emblematic site of the historic center of the city where a vigil was carried out for the late Simón Bolívar, the liberator of many South American countries, in 1830. Within its walls lie the riches of ancient cultures like the Tayrona, among others.

The museum is composed of four rooms: The People of the Magdalena River, Stories from the Customs House, Prehispanic Societies, and Bolívar Was Here. Entry is completely free, but the museum is not open on Mondays.
Bolívar Park
Facing the Bay of Santa Marta is the Simón Bolívar Park. It has a small fountain and a monument to Simón Bolívar, the liberator of Colombia. Around this monument, you can see beautiful trees and historical buildings. You can find this park between streets 14 and 15, with avenue 1.
Park of Lovers
Also known as Santander Park. This emblematic park is surrounded by bars, clubs and restaurants. Its name, "Park of Lovers," comes from the age-old tradition of Santa Marta couples who spend long afternoons and nights in the park, thanks to the pleasant and auspicious energy that this park maintains at all times.

This park is without question one of the prettiest and full of joy in the city of Santa Marta, and can be found on street 20 of the historical center of Santa Marta.
San Juan Nepomuceno Cloister
The San Juan Nepomuceno Cloister is one of the three oldest historic buildings in the whole city. Currently it functions as an independent cultural center of the Magdalena University. Cultural activities such as art shows and musical recitals are held inside this cultural center. It is located on Avenue 2 with Street 16, number 44, in the historic center. Entry is free.
Morro Santa Marta o el Fuerte San Fernando
Conocido por pocos debido a que el acceso al lugar es bastante limitado por estar en predios de la primera división del ejército. Fue construida entre los siglos XVII Y XVIII con el fin de resguardar la ciudad de ataques de piratas. Dicen que para poder ingresar se necesita el permiso del Batallón. Se ubica en las estribaciones del Cerro de La Pedrera, entre las playas San Carlos y Lipe.
Where to stay in the historic center of Santa Marta?
Don't worry about finding a place to stay in Santa Marta, as it is quite easy to find a hotel in the historic center thanks to the ample supply of hotels.

When you are walking on the streets of the center, you will realize for yourself the great number of hotels and hostels that suit all tastes and budgets. I recommend that you stay in a place that is close to the bay, perhaps somewhere between avenues 1 to 10 and streets 10 to 15. This sector offers accommodation for about 8.00 USD a night per person.
Where to eat?
In the historic center, just as there are plenty of hotels, there are also plenty of restaurants. Take a stroll along these streets, you will definitely find "arepa con huevo" (arepas with eggs inside), empanadas, or an exquisite "carimañola", which are all traditional foods of the Colombian Caribbean coast.

But let me recommend one place in particular to search for food that not only is really pretty but also offers great gastronomy – it's called the "Callejón del Correo" (Kah-jay-hon del cor-eh-o). This narrow street can be found on avenue 3 between streets 15 and 16. This place is really nice, with several restaurants that offer fair prices. Totally recommended!

Now that you know about a lot of places to visit, you can take a look at our map of the historic center before heading to Santa Marta so that you can get the most out of your time there.