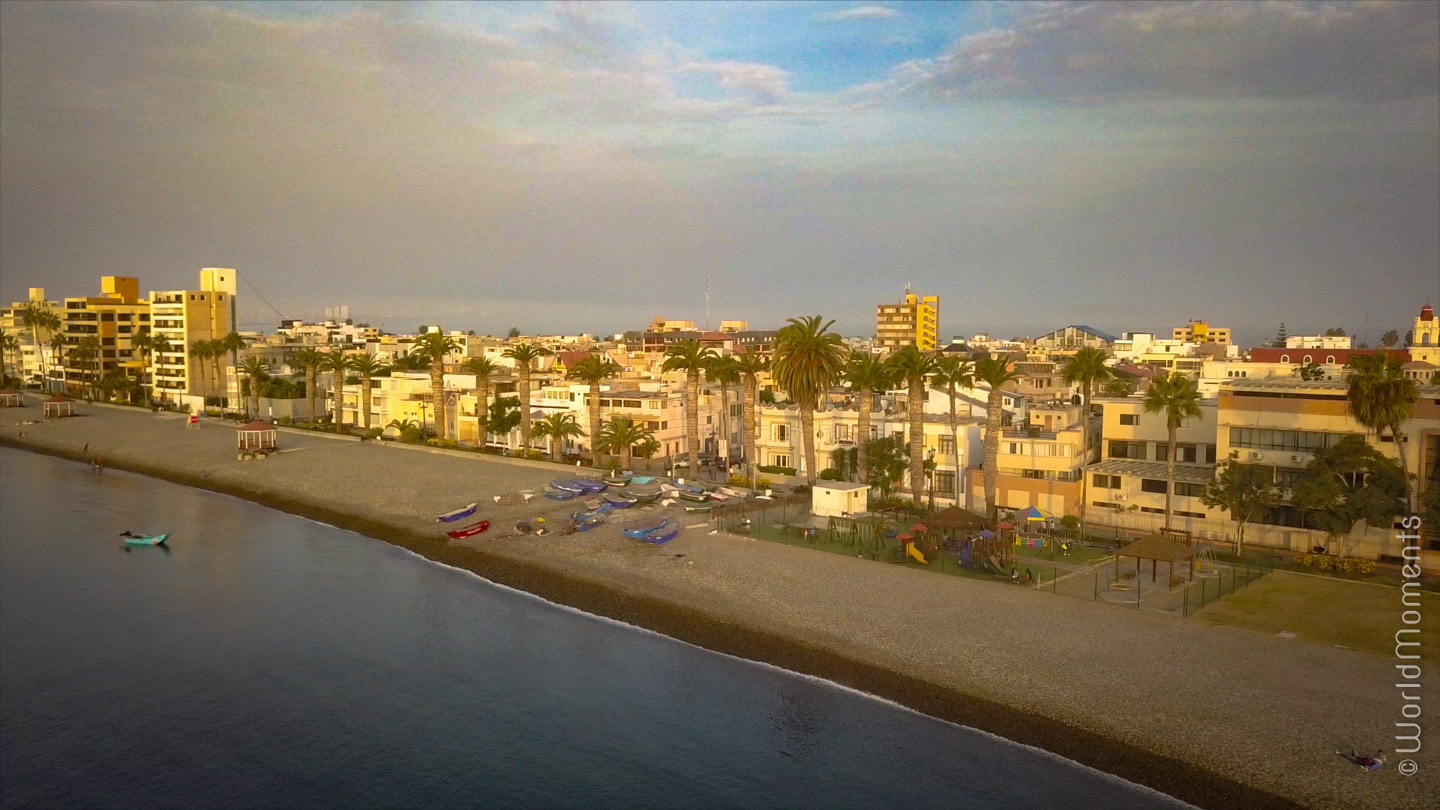 Beaches of Lima, Perú
Thanks to Lima's geographic positioning close to the Pacific in Perú, beaches in this city are easy to spot and even as the plane is landing you will be able to see the immensity of the Pacific Ocean. That's why I'm going to describe the best beaches that you can find in Lima as well as a few that are a little further from the city.
Beach Circuit of the Green Coast
These beaches can be found in the districts of Barranco, Chorrillos, and Miraflores (See what you can do in Lima to see what these districts offer)
"Fresh Water" (Agua Dulce, in Spanish) (Chorrillos)
Fresh Water Beach is a popular and emblematic beach of Lima that can be found along almost the entire coastline of Chorrillos. It is a very popular beach among the citizens of Lima. It's a busy place with lots of activities and things going on, so if you're looking for a quiet beach this may not be the place for you, although the recently constructed sea-wall they constructed is still worth a visit.

Umbrella Beach (Playa Sombrillas) (Barranco)
This is also a pretty popular beach because it's right beside Fresh Water beach in Chorrillos. The water and waves here are really calm.
Star Beach (Playa La Estrella) (Miraflores)
This beach, though rocky, is also very popular. Tourists and local Limeños tend to prefer this beach if they don't want to leave Lima. It's ideal for bathing as well as surfing.


Beaches of the town Callao (Playas de Callao)
The town of Callao (pronounced "Ka-ja-o") is a port city, and as such it offers several nice beaches that may appeal to tourists and folks from Lima.
Cantolao Beach
This beach is located in Callao Point (La Punta de Callao) and is very well taken care of by local inhabitants since it is one of the city's most gorgeous and traditional spots. The beach is right in front of the sea-wall Figueredo and the Naval School of Perú. From this beach, one can see the islands of San Lorenzo, as well as the touristy part of Callao port.

Beaches south of Lima
Taking the Panamerican Highway south from Lima, you will find the southern beaches of Lima at around 18 kilometers from the city, though the beaches that Limeños prefer start at about kilometer 35. Some of the most important ones are:
Octopus Beach (Playa Pulpos) – Kilometer 35
This beach boasts waves of up to two meters that come in to shore from the right side of the beach, which are ideal for "bodyboarding." You can also go paddle-boarding and surfing.
Silence Beach – (Playa el Silencio) – Kilometer 43
This is one of the top beach resorts in the south of Lima. The beach itself is made of white sand. There are many knickknacks for sale here, and quite a few restaurants. This beach has a really nice vibe, music, and lots of cheerful people – I really like it, though perhaps it could be a little too crowded for you? Regardless, I recommend it!
Beautiful Point Beach (Playa Punta Hermosa) – Kilometer 45
This is another beach resort that includes a range of beaches, including: Playa Sur, Playa Norte, El Silencio, Playa Conchitas (Little Shells Beach), Punta Negras (Blacks Point). This area is called the "Wave Machine", so of course it's appealing to surfers. There are even national and international surfing competitions held here, thanks to the waves that reach 5 meters in height!
Saint Mary of the Sea Beach (Playa Santa María del Mar) – Kilometer 50
This beach's speciality is the range of restaurants and fun activities that it offers, making it a nice place to stay for either a couple hours, or even a couple of days. The beach itself is quiet and not so filled with people, and the water is also calmer here. At night time, you can enjoy dance clubs, bars, restaurants and various places to stay the night. This is considered one of the best beaches of Lima.
Beaches to the north of Lima
To get to these beaches, you have to take the Panamerican highway to the north. The distances are a little longer than to the beaches south of Lima, but I guarantee that these beaches are worth visiting.
Paradise Beach – Kilometer 136
This beach can be found a little before arriving at the town of Huacho. It's quite a windy beach, but it's beautiful and the folks of Huacho love it.
Lampay Beach
Lampay Beach is a relatively undiscovered beach with calm waters. You won't see many people here, though you will see many birds! It's located in Vidal Cove, in the district of Supe, province of Barranca, in the department of Lima.
Tuquillo Beach
In the last few years, the beaches of Tuquillo have been mentioned a lot for their beauty. It's 7 kilometers from Huarmey and it is a spot you simply can't miss. The sand of these beaches is especially soft, the water is calm, turquoise in color, and a delicious temperature that will allow you to stay the whole afternoon soaking in the water. I recommend it as one of the best beaches of Perú.

As you can see, Lima has a whole lot of beaches that are worth visiting, although as a word of advice, you simply must try the delicious traditional Peruvian dishes that are based on fresh fish and seafood – they are simply spectacular.