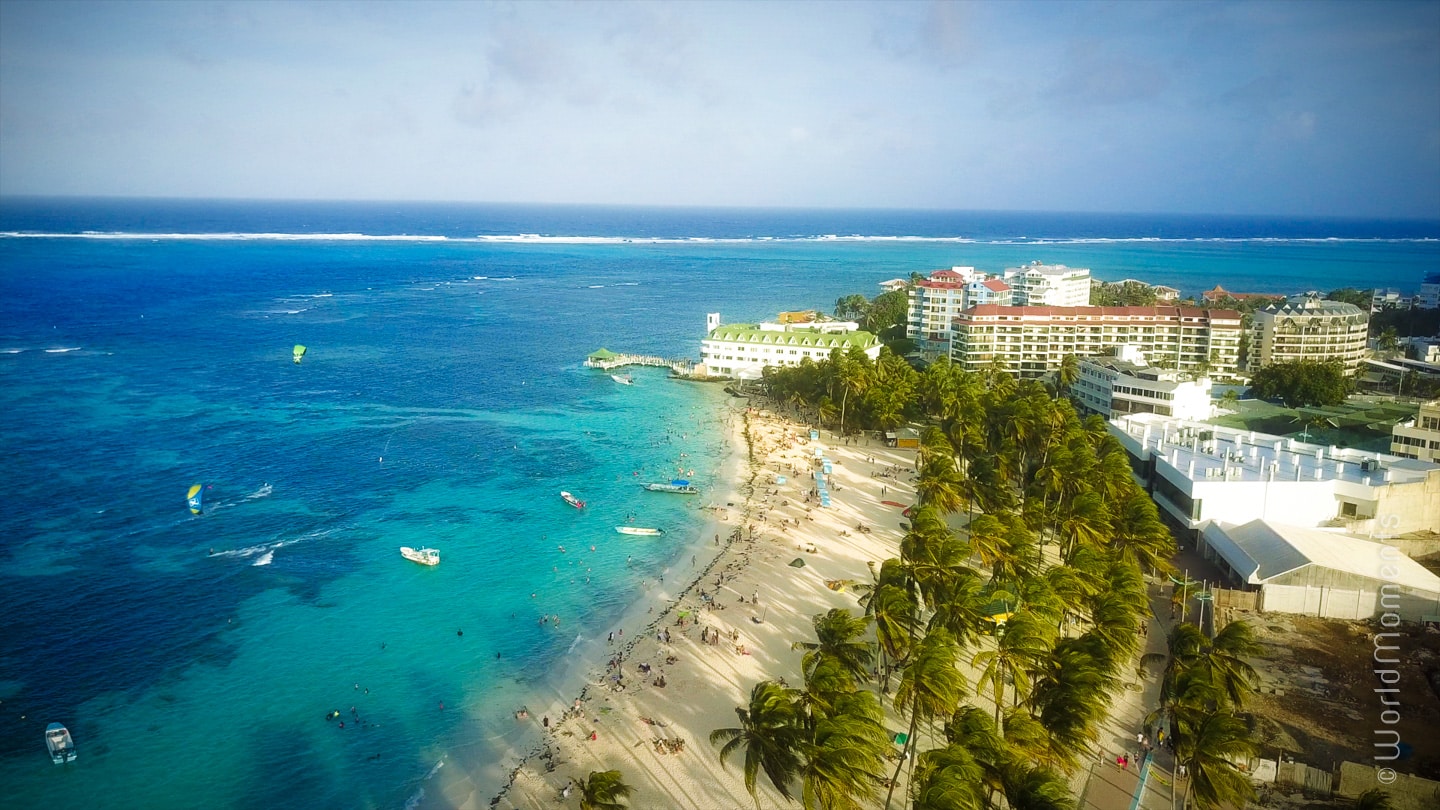 Travel to San Andrés Island
B
efore preparing your travel to San Andrés, you should keep in mind that to enter the island, you must present an OCCRE card (Office of Control, Circulation and Residence) in the Gustavo Rojas Pinilla airport of San Andrés.
You can buy this card in the airport of whichever city you are coming from for around 35 USD (this price checked in 2018).
The typical cities with flights to San Andrés are Bogotá, Cartagena, Medellín and Cali. Read how to get to San Andrés.

Planning to travel with a package deal or by yourself as a backpacker?
In Colombia there are lots of travel agencies that offer economical trips to San Andrés. I'll outline some of the pros and cons of choosing a travel package like this so that you can decide if this idea is for you, or if you might prefer to travel on your own to this gorgeous island. For this comparison, let's assume you will be leaving from Bogotá.
Travelling with package deals to San Andrés Island from Bogotá 2018/2019
In the all-inclusive plans to San Andrés, the following is included:
Air-fare (return ticket), hotel for 4 nights, breakfast/lunch/dinner in a buffet style, a liquor bar and a short tour in the bay. Also, some packages include a trip to Jonny Cay Island. (You can read here what we suggest to do in San Andrés). There are three things to keep in mind, here. First, the restaurants and bars of these travel agencies operate on a fixed schedule, meaning you may be "tied" to their schedule. Second, other tourists who have chosen to travel to San Andrés on package tours have noted that the liquor and beer that are provided aren't good quality (at least in the cheapest package deals). Third, it should be noted that the hotels are 3-star hotels.
This kind of plan costs between 350 and 500 USD, approximately, and there are several agencies that offer such a plan, like Decameron, On Vacation, Falabella, Éxito etc.
What are the advantages of travelling to San Andrés Island with a tourism agency?
You don't have to search for a hotel when you arrive
You don't have to leave the hotel to look for food
You can eat and drink as much as you like
You already have paid for the most important (and expensive) part of your trip: food and accommodation
And the disadvantages?
If you don't like what is offered in the buffet, you have to leave the hotel to find another restaurant
The liquor that is offered in the hotel bar isn't always of good quality
There are fixed hours for the restaurant and bar
Travelling on your own, or as a backpacker, to San Andrés Island
All great backpackers wait to find a cheap flight, and as I already mentioned sometimes there are really fantastic deals from Bogotá or Cartagena to San Andrés. In San Andrés, life is a little more expensive because the island lives solely from tourism and they import everything from Colombia, Nicaragua and the United States. Even still, you can save some money if you choose to stay in a hostel (these tend to cost around 15 USD for a bed in the shared rooms of 8 USD for a hammock). Although these tend to be a little farther from the center of the island, on Tom Hooker road going towards the San Luis neighbourhood, or in San Luis itself.
Outside the airport you can take a bus that takes you towards San Luis for 1 USD. From there, you can find other options for cheaper lodging like camping, and in general you can even use the communal kitchens in such places.
I recommend that you get some canned food to bring to the island if you really want to scrimp and save. You can bring them from whichever part of Colombia you're coming from. This is just one more method to save a bit of money while still having a great experience travelling to San Andrés. Keeping in mind that the island is small and that there are buses which take you to anywhere you want to go, always take the bus instead of taxis, because these are quite expensive. You can always ask a local person where to take the bus and they will surely show you the way; local of San Andrés Island are really nice people and very friendly to tourists.
One piece of information that is really important to keep in mind for your trip to San Andrés is that the center of the island is really close to the airport, (see the tourism map here), that is to say it is only 5 minutes in taxi or 15 minutes walking. Taxis shouldn't charge you any more than 7 USD for this trip.
And you, do you have any good idea for how to travel to San Andrés even more economically?