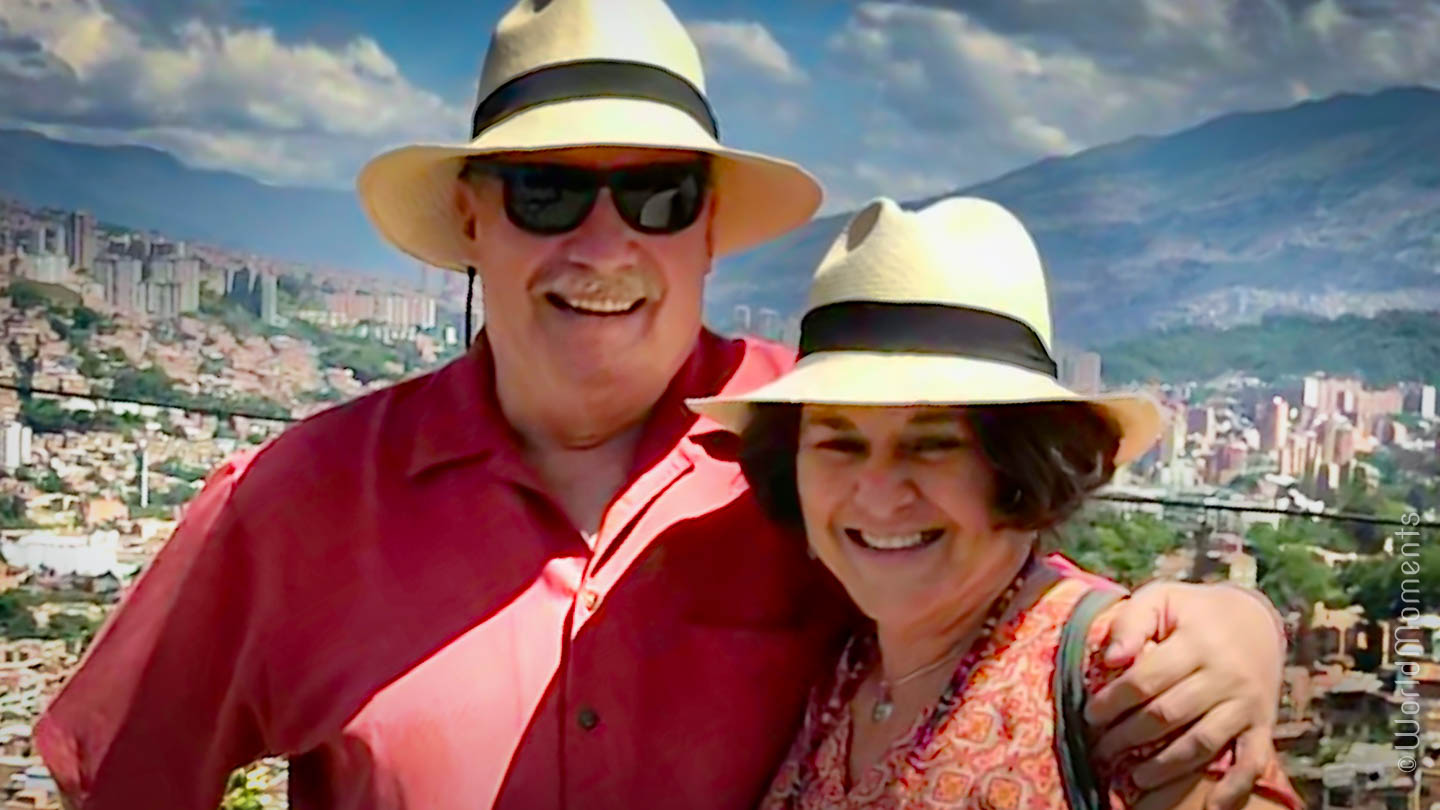 Travel stories: Susan and John, from California to South America with their boat
Today we will make you dream with one of our travel stories – this is the story of two adventurer: Susan and John. They are two world travelers that in 2001 left their home for a three year journey down the coast till Panama.

How do you end up settling in Colombia? And why Colombia?
We got the bug to retire outside the U.S. while we were still traveling on our sailboat, from California down the Pacific Coast of Mexico and Central America. We went through the Panamá Canal on our own boat in 2004 (a huge thrill!) and sailed across to Florida, and later ended up back on the West Coast, first in Oregon and then Southern California. The whole time we were back in "dirtworld" (as we called it), we worked and planned toward relocating to Panamá as soon as John retired. That happened in 2015, when we moved to the mountain town of Boquete in western Panamá.

In 2016, we visited Medellín and fell in love with the city. We were ready for big city living after the quiet rural lifestyle of Boquete. A year later, we took a Christmas/New Year's trip to Colombia to solidify our decision to move there.

After visiting Bogotá and Cartagena, we went to Medellín and stayed in three separate neighborhoods to get a feel for where we'd like to live. And finally, in November 2018, we moved to the Laureles district.

About a month ago, we moved out of Medellín to the scenic little town of El Retiro, about a 45-minute drive from the city. We are loving the fresh air, blue skies, and scenic vistas!


What is the part of Colombia you didn't expect?
We did not expect Colombia to be so scenically beautiful. Hiking trails not far from Medellín will take you to incredible Andean vistas and waterfalls. Find out about one of Susan and Johns hikes here.

The biodiversity of this country is really special, and we're glad to see so many people here working to preserve Colombia's more pristine areas. We hope it continues.
Tell us about your travel stories: what is a part of Latin America and Colombia that we should not miss at all?
Medellín is a fascinating and progressive city, and the story of how the people have overcome the violent past is incredibly inspiring. Newcomers should spend at least a week there. Also, we have recently discovered Colombia's wealth of small and colorful country towns, many with colonial roots and very rich histories. We live in one of them now, El Retiro, and we love it.

El Retiro's claim to fame is the wealthy mining family who, more than two centuries ago, freed all of the African slaves they had brought here to work. For that reason, the town is known as one of South America's "cradles of freedom." El Retiro is also known for its high-quality, hand-crafted wood furniture.

Looking beyond Colombia, our favorite Latin American experiences so far have been visiting Cuba, cruising the Galapagos Islands, hiking the Inca Trail to Machu Picchu, and seeing Iguazu Falls in Argentina (NOT to be missed!!).

Although we're anxious to explore many other parts of the world, we've realized how much there is to see right here on this continent!
Was it difficult to travel in Spanish speaking countries being English mother language?
Even in our earlier sailing days, we somehow got by with minimal Spanish. In just about every Latin American country we have visited, we've found the people to be incredibly gracious and welcoming. And a little Spanish goes a long way – if they see you're trying, they are usually very helpful.
How did you learn Spanish and what is your best advice for whom is learning this language?
We have studied formally a bit, but we have learned most of our Spanish just from day-to-day living in the community. Finding people who are willing to practice with us. Translating highway signs when we're going somewhere. Watching Spanish-language TV (programs with Spanish closed captions are especially good, because you can read the words while they're being spoken on the screen). The best thing we ever did for our Spanish was to move to Colombia from Boquete, Panamá. Because Boquete has such a large expat community, it's possible to get by without learning much Spanish – but we were looking for a different experience. Since there are so few English speakers here, especially in El Retiro, it's been a true immersion.

Therefore, our biggest piece of advice is to jump into the deep end of the pool. Live where there are few people who speak your native language. Don't be afraid to try a few words and phrases, even if you think you'll get it wrong. People really do appreciate it when you make an effort. And somehow, communication usually happens!
If you can travel into the past, what would you say to Susan and John?
Study Spanish in school – ha! It's tougher to learn a new language when you're older. And don't be in a rush to go to college and start a career. Get out and travel and see the world while you're young. If we could change anything, we would have become expats sooner!

Tell us about your blog, how and where we can find you and your future travel stories and life plans!
Our blog is called Latitude Adjustment – www.latitudeadjustmentblog.com. We started it back in 2015, just before we moved to Panamá. At the time, we were just looking to document our experiences as new expats in an unfamiliar country. Over the years, as travel has become more of a passion for us, the blog has started taking on more of a global travel focus. At least it had, before the pandemic!

COVID has made us rethink our priorities, just as it has for travelers all over the world. In the near term, we've put our international travel plans on hold and we're concentrating on Colombia. There is so much to see, right here in our own backyard!

After buying a car a few months ago, we've been branching out and taking driving trips to nearby small towns and villages. We have a goal to visit all 17 Pueblos Patrimonio (Colombian Heritage Towns). So far we have visited three: Jardín, Jericó and Santa Fe de Antioquia. And once we're vaccinated and the health situation improves, we'll resume our travels in South America. Next up, we hope: a car camping trip to Patagonia in southern Chile and Argentina, which we had been planning for this year and had to put on hold when the pandemic set in.

Looking further out a few years, we're planning on relocating to Spain to give us a home base for exploring Europe. We will always be expats!